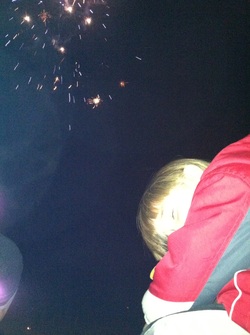 In the highlight film for the "Great Moments in Parenting" that my grandchildren will show at my hundredth birthday, this past Friday would be pure cutting-room floor stuff.
There is a lot to recommend the life of a writer. Like many fortunate enough to work from home, I have lots of discretion when allocating my time. My youngest is home two days a week, and I work hard to set the business-stuff aside so he and I can have some quality time. Translation: he is not watching endless clips of Barney, Yo Gabba Gabba, and Blue's Clues. But it doesn't always work out.
Friday, as I held him close on the couch, listening to his "I want mommy" chant, repeated like a metronome for minutes on end, I considered how I could have handled things differently. He'd asked for hot chocolate, because one of the characters on Oswald was eating marshmellows. No biggie. I brew it up, he drops in approximately three hundred miniatures, and we are back in the living room. I settle back down to weave the words that will move nations, and suddenly he squalls, an upturned hot chocolate mug gleaming its contents all over his leather stuffed chair.
I lifted him clear of the mess and I yelled. I was careful not to use words that would have earned my kids a soap-gargle.
But as he informed me through gulps and sobs, "You hurt my feelings." These are harsh words to absorb from a three
-year old. We sat down holding each other, as is our custom when things go askew.
In a new book by Laurence Gonzalez,
Surviving Survival: The Art and Science of Resiliency
, he explains that an area of the brain known as the anterior cingulate cortex interprets pain, including social pain, such as grieving. It also sends signals of pleasure from skin-to-skin contact. Our first response to emotional pain is to put out the fire with skin-to-skin contact. When really bad things happen, we hug one another.
In early fall, I heard that a family we knew here in the county had lost their five-year old in a drowning accident. Couldn't get the image out of my mind for weeks, and wondered what to say when I ran into the dad. By chance, at a McDonald's fundraiser for a new playground at his son's school, I caught his eye across the room, and walked over, my mind racing. He held out his arms and we hugged. And I realized that THAT'S what you say, when words won't do.