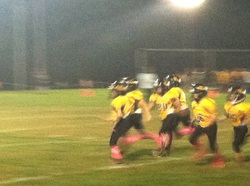 This Sunday past, I joined with family and friends, decked in burgundy and gold, to watch a football playoff game. As an apparent rout began to unravel, I watched my home team Washington Redskins hand back over a 14-point first quarter lead. But I, along with 80,000 fans in the stadium and millions of TV viewers, also watched a drama of a different kind unfold.

What Robert Griffin III has done for the city of Washington, and for the sport of NFL football, is impossible to quantify. He is Moses, and Churchill, and Washington in the dark snowy woods of Delaware. He is the Messiah, smiling as he calls us to follow him to the Promised Land. He can be forgiven for operating outside the normal Coach/Player relationship. He decides, for example, when he should play.

Sunday, I watched our Messiah succumb to the limits of the human physique. Or in his case, an Adonis-like physique. Griffin's leg was mangled in the December 9 matchup of our Parkway rivals the Baltimore Ravens. The Redskins had just started a win streak that led straight to Sunday's game in Washington. In the Ravens game, Griffin tied us up in regulation, and the win was assured by his backup, Kirk Cousins, a very talented quarterback in his own right.

Griffin in Sunday's game was injured late in the first quarter, with Washington holding a dazzling 14-0 lead. The drama began. In one sense, it was a race against the clock. Just the week before, the network commentator had lauded Griffin as the one guy on the team that everyone, including the most seasoned veterans, point to as the team leader. Could he hold onto the lead he'd created, and survive three more quarters of smashmouth NFL football?

As the game progressed, I didn't know whether to cover my kids' eyes or try to call someone.

"Hi, Redskins management? This is fair-weather fan Jack. Look, if you're doing this for me – sacrificing this 22-year old for the sake of one more weekend game? Don't."

I, along with the rest of the planet, wondered when the obviously distressed Griffin would limp to the sidelines and Cousins, in his unblemished jersey, would trot out to put the game on ice. Cousins finally did appear, with about five and a half minutes left, to try to lead his shell-shocked team back into a game that went horribly wrong in a slow-motion avalanche. It was too late. But not by several minutes, or even quarters.

It was too late to pull the curtain back in place. I realized something about myself in the post-parenting age. The question should never have been, "Why don't they pull Griffin since we have a great back-up in Cousins?" What my kids should have heard me ask is, "Why don't they pull Griffin because the boy is hurt?"

When a player can't play and a coach can't coach, I sympathize. I still don't feel comfortable leaving it up to my son whether to play football or not next year. In this post-parenting world, I feel like I'm supposed to let him decide. That's an easy out, because I don't know the right thing to do. I love football. It was good to me. But I can't get the image out of my head of my son, immobilized and scared.

Back in the Parenting Age, it was different somehow. We played football from September to December, every day, no cleats, no mouthguards, no helmets or uniforms. The hedges were a touchdown, sidewalk out-of-bounds. We played tackle – two-hand touch for the little kids. We made our own rules, learned to fall and get up, and worked out differences. And we emulated our heroes. Mine was Pat Fischer.

Washington has had some great coaches. Maybe Mike Shanahan is one of them. I can sympathize with a man in his position. There has seldom been an instant-production machine like Robert Griffin III. The normal rules simply don't apply. What coach in any sport at any level doesn't dream of a kid whose passion is to carry the team on his shoulders? He embodies former Coach Vince Lombardi's exhortation: "Life's battles don't always go to the stronger or faster man. But sooner or later the man who wins is the man who thinks he can." Of course, one still has to coach such a phenom.

On a Saturday morning in January 1988, another Redskins coach, Joe Gibbs, addressed a prayer breakfast in San Diego. My brother Mike, a Navy man at the time stationed in San Diego, was so moved by what he heard that morning he called to tell me about it. Three months before the breakfast, Gibbs had committed to speak, not knowing of course that his team would be competing in the Super Bowl the following day.

Joe slept on a cot in his office during football season. One day, his wife called to let him know one of his sons was in trouble in school. He exploded. "Don't you know I have a playoff game coming up?"

Later he called his wife back, made it clear to her that what she did was a lot more important than football, and he came home.

Instead of talking football, he talked about family and about what really matters. "It's important to remember that we play a game. It's not life. Family, and honesty, and worship, and relationships. Those are what's important." He slept on a cot in his office.

There was a touching, very human moment in Sunday's 24-14 Redskins loss to a talented Seattle team. As Griffin left the field for what may be the final time in months, the Seattle players applauded him. I don't know if that's a common practice in the Pros - to salute the enemy. I seldom see games in person, and networks have a habit of cutting away during injuries.

But they clap at my sons' football games, and I like the reminder that football is a dress-up game between two costumed teams. Much like make-believe games kids play, but with wheelbarrows of cash involved. Football has not a whit to do with life, except as a diversion. In the instances where it can shape character, I'd like my kids to know that it's not win at all costs, it's have fun, try not to get hurt, and shake hands at the end of the game.

Good luck, RG. Get well soon.