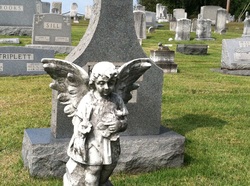 A six-year old local girl was pulled from a wrecked jeep Monday night here in Carroll County, MD. She died. This morning, National Public Radio airs a story on how
nonbelievers cope with death
. It's funny how things seem to connect.
I've told some close friends how I will remember 2012 as a year of untimely deaths. Wonderful celebrations were part of the year, but even these occurred in the shadow of lingering illness. I am not sure what the definition of untimely death even is. Maybe all are.
Strangely, my children seem to feel none of the discord I feel about the people who've passed, and the unfairness of it all. I am surprised and touched, and have been ever since the two older ones lay on the floor of the funeral home with paper and crayons, along with their cousins, and drew pictures and notes that they then inserted in Great Grandma's coffin for her next great journey.
We expected my Aunt Mary to die this summer, from a maddening, teasing illness, and we had a wonderful visit on one of her good days, a few weeks before her death. But the call we got a week or so after the visit was for Aunt Marcia - Cookie to family - a woman radiant and glowing, full of energy and a regu
lar at the gym.
After another long and lingering illness, a friend Judy finally succumbed, surrounded by family and friends.
Our wrestling coach's five-year old son, Nate, died over the Labor Weekend, and an entire county was plunged into mouth-covering shock. Nate is remembered in ways that will touch the community - and all who know the family - for a long, long time.
My college friend Aaron - a consummate athlete and moment-seizer, passed unexpectedly in November.
On my birthday, December 9, a beautiful young woman, daughter of my cousin Charlie, is killed in a senseless accident, her fiance driving, life stretching ahead in open-armed welcome, then dissolving in a cold western Maryland instant. .
A few days later, just in time for Christmas, Newtown.
I guess I had hoped God would decide enough is enough, and 2013 would be a year of weddings and babies. Then yesterday, I hear about the little girl who died, strapped in the back seat, in an improperly secured car seat.
I am not at all comfortable about my children's' lack of exposure to religion. I try to weigh how much my own formative years spent in the care of the sisters affected me, and whether on balance I consider that positive or negative. There are few things, after lo this many years, I know for sure.
In listening to those in the NPR piece with no God describe how they get through tragedy, I am struck by a woman interviewed. "
I was searching frantically for anything that would help me get through this," Fiore recalls. "But everything I found had to do with God: putting your faith in God, believing that God had some sort of plan. I found
nothing
to help me."
I can appreciate the consistency shown here in being an atheist. If you don't believe in God, that applies to moments of tragedy too. But I don't hesitate to explain to my kids that Mary is now with Jimmy and Dawn, and Cookie is now with Ryan. I explain it that way because I have to believe it.
I am not cut out for atheism. When I'm swimming in the ocean I don't think about sharks. When I am camping alone I don't mull over the last Stephen King book I read. And when I am truly open to all that life is, including what a dangerous and mindless world it can be sometimes, I don't toy with the notion of nothing beyond, as well as here, to aid the journey.
Anyone due soon? Any marriages on the horizon? It's time.